Book one of our magical Christmas experiences to bring festive cheer to all the family
Timmermans Christmas Circus
We are delighted to welcome back Rusty Russell and his team to host the fabulous Timmermans circus
Come and enjoy a magical performance where you'll be entertained and wowed by the talented team of performers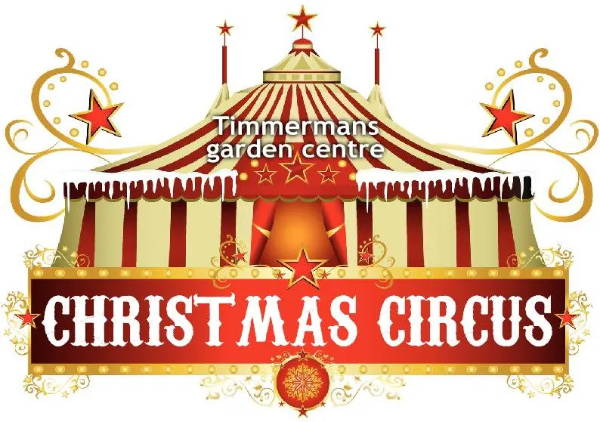 DATES
Daily performances from Friday 10th of Dec to Fri 31st of Dec (Closed 25th - 27th)
Early Bird £1 discount for performances on
Fri 10th
Mon 13th - Fri 17th
TICKETS
Adults £7.99 / £6.99 Early Bird
Children £6.99 / £5.99 Early Bird
No ticket purchase is required for children under the age of two years as long as they sit on a parent/guardian's lap (if you would like a seat for your under 2 year old, please purchase a child ticket)
Children of two years and over are required to occupy a seat and a child ticket must be purchased.
Persons of fourteen years and over require an adult ticket.
We regret bookings cannot be changed or refunded so please double-check you are booking the correct date/time before checking-out as mistakes cannot be rectified after purchase.
We encourage the wearing of face masks by anyone over 12 (unless medically exempt)
Breakfast with Santa
We are pleased to announce you can now book for this year's Breakfast with Santa.
Arriving at 8.30am you will be served a delicious freshly cooked breakfast to enjoy.
After breakfast Santa and his helpers join us to say hello, before returning to his grotto where the children can meet the big man himself and receive a special gift.
£15 for Children & £10 for Adults
Including a cooked breakfast and entry to see Santa & receive a gift.
Our child's breakfast consists of a pork sausage, bacon, scrambled egg, baked beans, half a slice of white toast and a drink.
(Vegetarian option available)
Our adult's breakfast consists of pork sausage, bacon, grilled tomato, mushrooms, baked beans, egg of your choice, toast and either a filter coffee or breakfast tea.
(Vegetarian option available)
Payment is due at time of booking, when we'll also take any adults egg preference too.
Breakfast with Santa will be held on the
4th, 5th, 11th, 12th, 18th, 19th, 20th, 21st, 22nd and the 23rd of December at 8.30am.
Please either pop in
or call 0115 9664033, press 2 for the restaurant
and speak to either Megan or Eve - our amazing Christmas elves, who are here to make you booking as smooth as possible.
Unfortunately we are unable to offer refunds after Monday 8th November
Santa's enchanted forest Christmas Grotto
Take a walk through our magical enchanted grotto and visit Santa.
We're very happy to announce that Santa has once again agreed to visit us at Timmermans so he can meet all the wonderful local children
This year's grotto will be partially outdoors in our outdoor covered area as last year, but with the addition of an indoor walk-through element so you can enjoy our festive displays and animations
Grotto Opening Times
November
Saturday 20th 10.30am - 5pm
Sunday 21st 10.30am - 4.30pm
Saturday 27th 10.30am - 5pm
Sunday 28th 10.30am - 4.30pm
December
Friday 3rd 2pm - 5pm
Sat 4th 11am - 5.30pm
Sun 5th 11am - 4.30pm
Tuesday 7th to Friday 10th 2pm - 5.30pm
Saturday 11th 11am - 5.30pm
Sunday 12th 11am - 4.30pm
Tuesday 14th to Friday 17th 11am - 5.30pm
Saturday 18th 11am - 5.30pm
Sunday 19th 11am - 4.30pm
Monday 20th to Thursday 23rd 11am - 5.30pm
Friday 24th 11am - 4pm
Price
£10 per child includes gift
Please note there is no booking facility for the grotto.
The weekends are generally very busy but the grotto is open till 5.30pm on weekdays - except Christmas Eve - so please take advantage of coming at these quieter times. Last entry to the queue will be 10 minutes earlier than stated closing times or earlier on busy days to enable Santa to see everyone before closing.
Due to the ongoing risk of Covid-19, we have decided to keep Santa outside this year but we have added an indoor walk-through element so you can once again enjoy our animations. To help protect Santa, you will not be able to get within 2m of him within the grotto and we ask please, where possible, to limit your group to 6 people in the grotto at any one time due to spatial constraints. Please wear a face covering if you are 12 or over unless medically exempt.
Strictly no touching of the displays. Children must be kept with you and supervised at all times.
Queuing is outside so please wear appropriate warm clothing. The area is undercover but on busy days there may be a chance you will have to queue outside, so please bring an umbrella/waterproofs if rain is forecast.
Entrance to the grotto will be via the gate at the bottom of the shrub area on weekends and busy days and through the garden centre as usual on quieter days.
Payment is cash only as the grotto is outside and we do not have the facility to use card so please bring cash to pay for grotto entry.
We will try to accommodate requests to see a specific Santa but cannot make any guarantees, particularly as Santa Michael has health conditions which may limit the hours or days he can work, potentially at short-notice.